i've been blogging on and off since feb 2011. i started late one night while i was staying awake to monitor a very sick child. it helped me get through that illness of hers, which lasted several days. i blog mostly to record my sewing adventures, but i also thought it would be nice to interact with like-minded sewers and quilters. i made a few connections, but just couldn't seem to get any responses. that was not the end of the world or my blogging. but one day i decided to link up to a
wip wednesday
at freshly pieced, and that all changed. no longer alone, i now have regular blog friends and my list of peeps is so big i need to have a page just for this! so if you're feeling lonely in blogland, link up!
link parties i frequent
blogland friends
this is kind of like my own link party!
friends, you are in no particular order other than who i met first.
stitched in thyme
nicole @
sew nomadic
elisheva @
pomegranate quilts
gina @
party of eight
tessa @
the sewing chick
rebecca lynne @
making rebecca lynne
jan @
sew and sow farm
other link parites i've participated in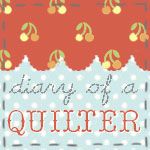 rachel @
stitched in color
amanda jean @
crazy mom quilts
erica @
kitchen table quilting
nettie @
a quilt is nice
alison @
cluck, cluck sew
elizabeth @
oh, fransson
!
jolene @
blue elephant stitches
natalie @
greenleaf goods
@
little miss shabby
jessica @
life under quilts
- epp
rita @
red pepper quilts
caitlin @
salty oat
megan @
canoe ridge
favorite bake shop posts
softie sites
fabric folk
how to's